Tyler Bryant & The Shakedown
Thu. Jun 20, 2013 at 8:00pm MDT
Price: $15.00
21 and Over
Event Stats
Price: $15.00
21 and Over
Event Description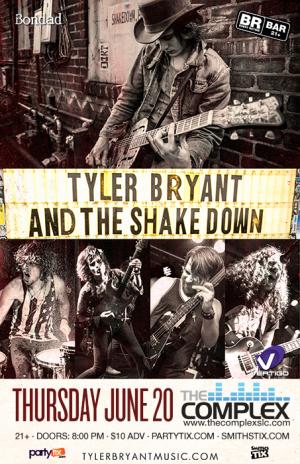 Bondad presents Tyler Bryant and The Shakedown.
Local support from : Parchman Farm

Tyler Bryant was born to play music. The 21-year-old guitar prodigy has been playing since he was six and was bred on the roughneck blues of Muddy Waters, Robert Johnson and Stevie Ray Vaughan.

At age 11, Bryant's parents found him jamming in a record store with seasoned blues guitarist, Roosevelt Twitty, and they knew their son was destined for something big. Four years later, he was introduced to blues' predecessor, rock and roll, when he attended a Black Crowes concert. Soon thereafter, he started listening to bands like The Rolling Stones and Tom Petty & the Heartbreakers, and officially became hooked.

Tyler is joined on stage by his just-as-extraordinary bandmates. The Shakedown is comprised of an incredible array of musicians including Caleb Crosby (drums), Noah Denney (bass) and Graham Whitford, the son of Aerosmith's Brad Whitford (guitar). Together, Tyler Bryant & the Shakedown, tore up the SXSW stage this past year and has built its rapport over several years, thanks in large part to a continuous string of live performances -- albeit wide-ranging in nature -- from opening stadiums for Aerosmith, Eric Clapton and B.B. King, to playing their own club gigs around the US and in Canada. It's like being a member of a gang or something," Bryant says of his band's unified presence, adding that him and his bandmates have become locked in with one another to the point where they can predict each other's next move. "I know what they're thinking before they hit the note," he boasts. "It's so important for bands to have a chemistry and get out there and play as much as we can. Each player has a personality that comes out in the record."
View Everyone
Who's Going?

Marco D

Rebecca

Lynn

Jade

Melanie