[a]pendics.shuffle
Sat. Jun 30, 2012 at 8:00pm MDT
Get Tickets
Details
Comments
Event Description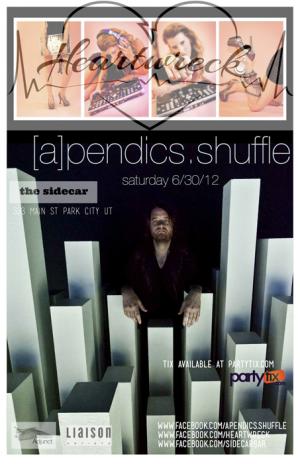 ummertime is about to get into full swing and The Sidecar is committed to bringing Park City some of the best Live Events and Entertainment that we can find.

At the end of this month it's all about the Dance Party!

Tired of seeing the same old thing on Main Street? Come out and experience something fresh, Saturday June 30 at the Sidecar!

2 Stellar and Unique DJs

[a]pendics.shuffle
"He's a pilgrim and a preacher, and a problem when he's stoned, he's a walkin' contradiction, partly truth and partly fiction, takin' every wrong direction on his lonely way back home." Yes, those are lyrics to a song and this is a bio about the man that goes by the name of Kenneth James Gibson. He is a man of many personae and will go from monkey to bumble bee right before your eyes. Keeping up with him can be a time consuming, yet rewarding venture into sound. As soon as you think you know him and can grasp whats going on, he puts on yet another mask and becomes something else. Always a surprise and never a let down, he gives us what we want but don't expect. A rare stone in today's musical climate, Ken is rolling and collects no moss.

HEARTWRECK
Much more than just a pretty face on the stage, Lauren Clayton, "Heartwreck", has carved out a place as one of Salt Lake City's top female DJ's. With a fresh ear for solid beats, she is sure to deliver a seamless mix of intelligent bass, sultry rap, and glitched out grime. This determined diva will continue to rise through the ranks with her fierce nature and high energy. With the crowd as her witness, Heartwreck rocks it proper and packs the dancefloor.